Grey Hair
We offer wholesale European, Asian, and Uzbek grey hair.
European Grey Hair
Grey European hair is popular for the production of wigs, for use at hair studios and for hair extensions. When purchasing European grey hair from us, you can always be assured of its quality and authenticity. Our experienced buyers always carefully select raw materials, because they value their reputation and the trust of our customers.
Uzbek Grey Hair
Grey Uzbek hair is a often selected by our clients due to its unique structure similar to European hair. Because of this, Grey Uzbek hair successfully compensates for the shortage in European hair. Uzbek hair is very durable, well suitable to be used hot appliances when using hot hair extension technology.
Asian Grey Hair
Grey Asian hair is used to make theatrical wigs, hairpieces, false beards, mustaches and sideburns. It is also suitable for the creation of wigs with a silver shade for the elderly. For many years our company has supplied natural grey Asian hair to companies that produce these products.
This hair is offered on a washed basis only. When washing and combing out we removed any dirt, and the hair becomes smooth and it's easy to see the original structure.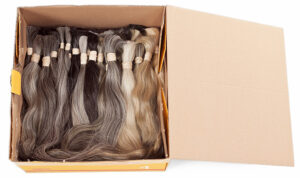 Our company has established a system of collecting of grey hair in Asia, while our experienced staff makes a careful selection of only the best quality hair.
When buying grey Asian hair from us, you can be sure that you purchase goods of the highest quality.
Gallery of Asian Grey Hair We Have Recently Sold